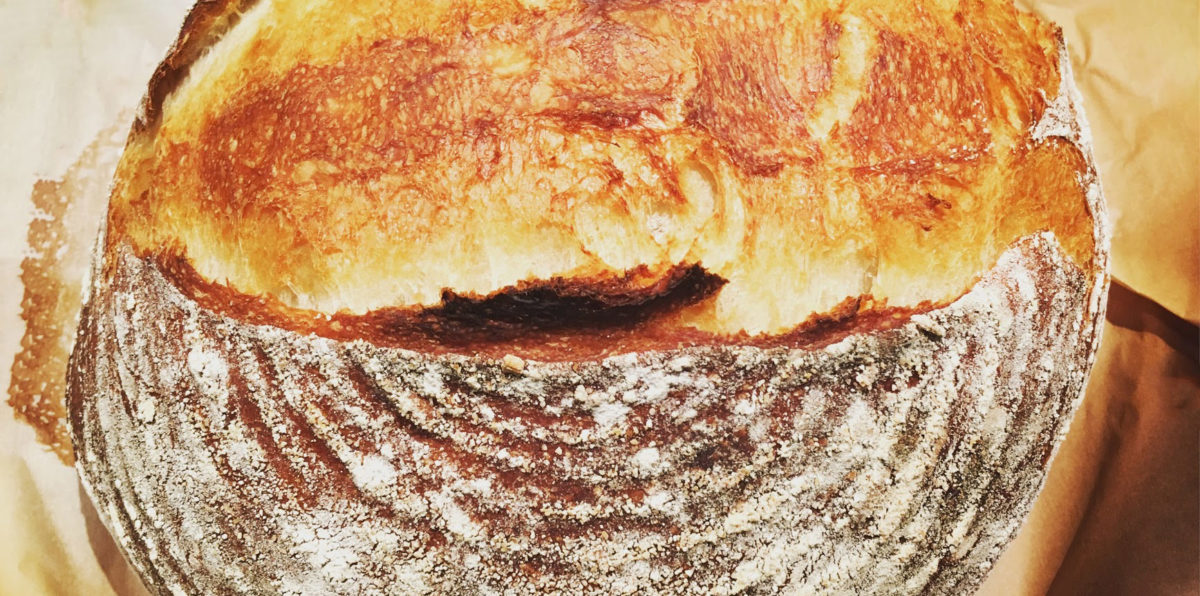 We love hosting dinner parties. Having friends over to cap a busy week, letting the kids run wild, and enjoying these relaxing times are sometimes the highlights of our busy weeks. One of the things that help the evening to stand out is the amazing food that's brought to the table, especially the bread.
My friends know that I love to bake and enjoy coming over to nibble on fresh homemade bread, and I've recently been working on perfecting a super easy yeasted sourdough like bread that I call "faux sourdough".  With just a few hours and six simple ingredients, this bread is a crowd pleaser from start to finish.  It comes out of the oven with a golden crispy crust, has a slightly sweet aroma, and a flavor that you can make as sour as you please.
This bread may also be good for the gut.  As the yogurt or greek yogurt contain probiotics, it can aid with digestion and overall stomach health.
[ezcol_1half]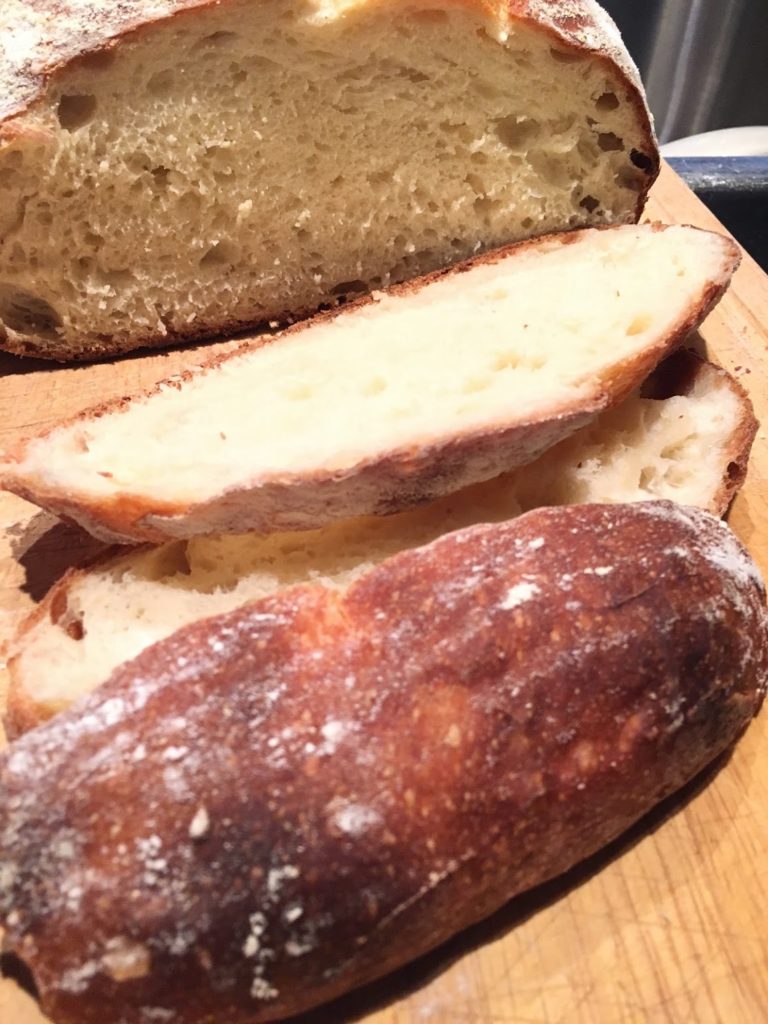 [/ezcol_1half] [ezcol_1half_end]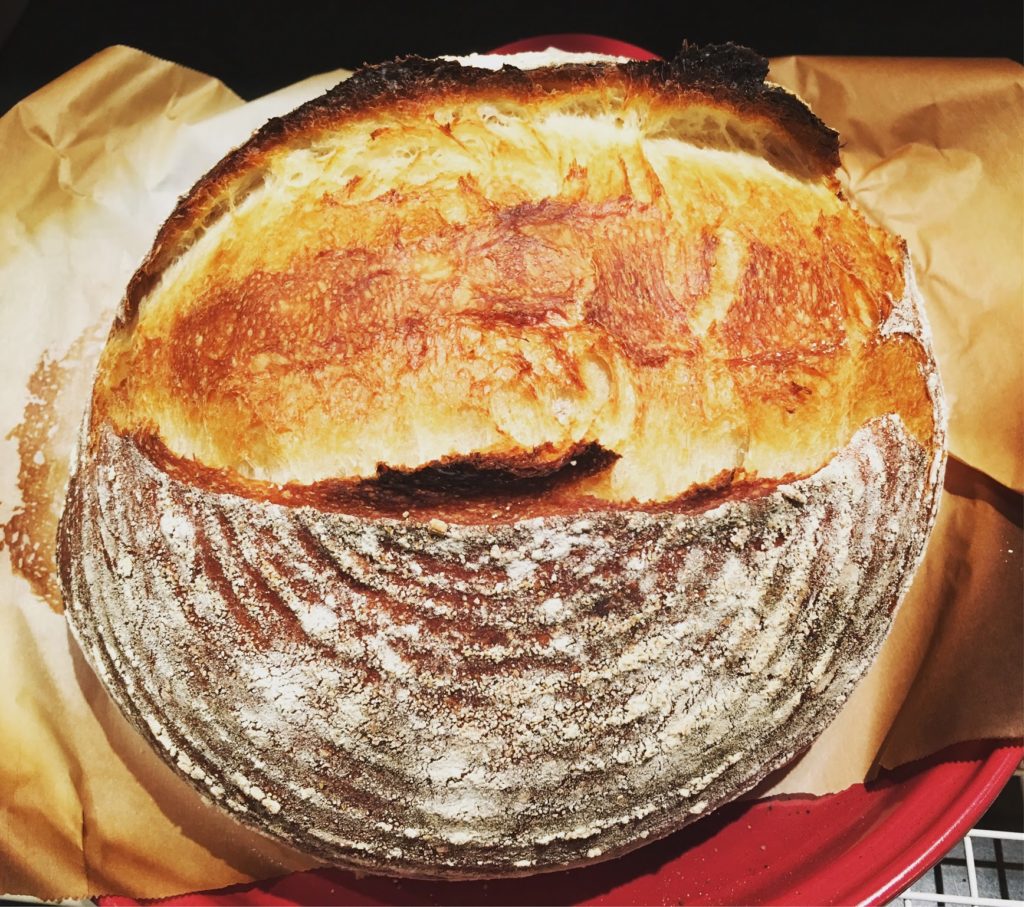 [/ezcol_1half_end]
A quick note about yogurt: The yogurt will lend the bread its sourdough-like flavor.  If you don't like it too sour, just add more water to the recipe and use less yogurt.  If you like it more sour, use a little less water and add more yogurt.  Also, I found that greek yogurt held up a little better than the non-greek variety and made the dough a little easier to work with, but only marginally so.  If you don't have greek yogurt, don't fret and just use regular yogurt in your bread.
In order to pull off this loaf, I recommend the following tools
Ingredients
[table id=16 /]
Process
In a large bowl, add all ingredients except the salt and mix by hand until you form a wet mass (or mess!).

Cover the bowl and let it autolyse for about 15 minutes.
Add the salt and mix by hand until the salt is fully incorporated in your dough.  Cover again and let rest for an hour.
Knead your dough briefly (a minute or so) and cover again for about an hour.
By now your dough should be smooth and about twice as big as when you began.  Lightly flour your working surface and dump the dough to form in to a round shape.  Cover with a kitchen towel and let rest for about 10 minutes.

Shape your dough to a tight ball.  Add flour to your Bread Proofing Baskets and place your dough in the basket.
Cover with a plastic bag (be careful not to let the bag touch the dough) and let it proof for about an hour.
In the meantime, place your Bread Cloche in the oven and pre-heat to 450˚F.
When the dough has proofed, turn it on to a peel lined with a sheet of parchment paper and use your Bread Lame to score the bread.
Using a heat-safe glove, very carefully remove the cloche's lid and slide the dough gently in to the cloche pan.  Cover the cloche and cook with the lid for about 15 minutes.
Remove the lid and finish cooking the bread, another 15-20 minutes.
When it's ready, remove from the oven and place on to a cooling rack until the bread is cool enough to handle.  Warning, the smell will drive you crazy but resist the urge to bread in to the bread too soon or risk burning your mouth! 🙂