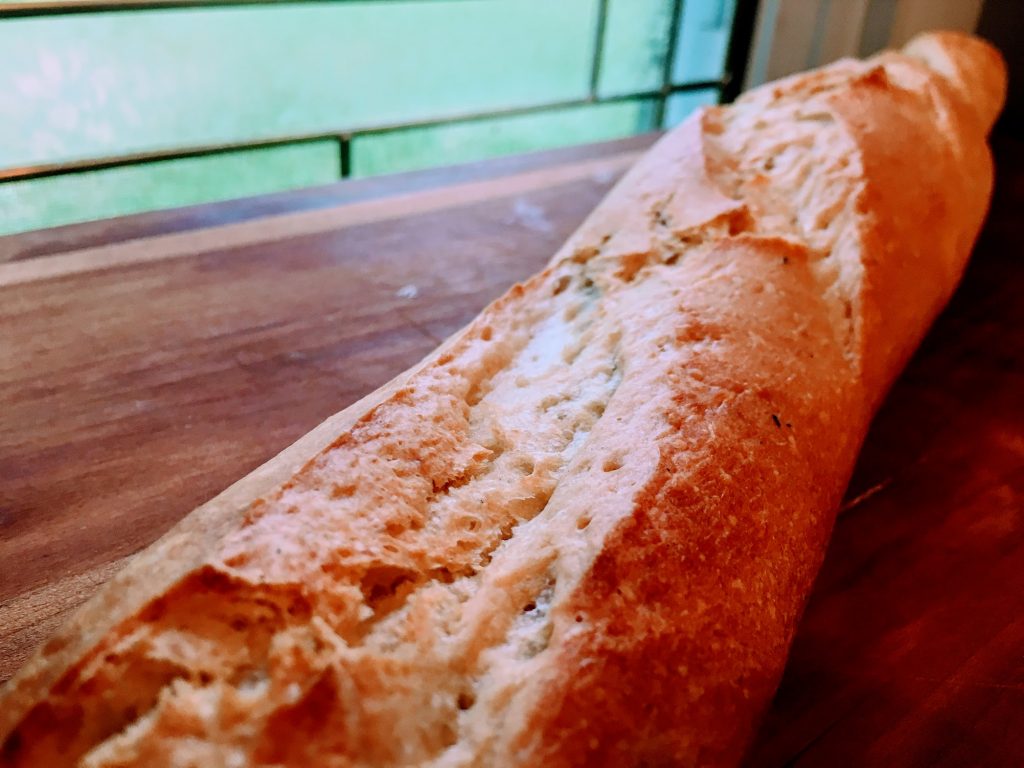 The allure of a homemade baguette is enough to inspire and frustrate me. To no end, sometimes this simple bread drives me to madness while at the same time making me think that I sometimes just may know what I'm doing. To me, the simple breads can be the hardest to master and the baguette is my equivalent of Ahab's White Whale. Sometimes I believe that a good result is imminent and then something happens to dash my hopes, like bread stuck to the pan or bread that didn't get enough steam or a loaf that would be otherwise good except for the fact that it burnt. Ugh!!
Don't get me wrong, most of my baguette experiments (and I'll call them experiments until I can get them consistently right) taste good. On occasion they taste very good, but the overall appearance is lackluster. To me, a baguette has to be crispy and have a blistery crust with a golden hue, and the crumb of the bread should have enough holes to absorb the generous amount of butter or jam that ends up getting smeared over it but not so much as to lose its contents.
Of all of those things, the crust is probably my biggest problem due to my oven. I've talked about the beast before but, if you're a first time reader here, I'll rehash. The Beast is what I call my oven. It's probably the sole reason my wife and I bought our house and it continues to amaze us that we actually get to use it. It's a 60" commercial grade oven made by a company no longer in existence (or rebranded) called "US Range". It features 6 burners and 2 ovens in addition to a very cool griddle that we use to hammer out some tasty treats for family and friends on special occasions. It's not a very beautiful oven but it is pretty awesome. The one exception to its awesomeness may be the industrial build of The Beast. The oven is very drafty and the temperature is not very accurate. In one corner we may have 475˚F while on the other we may have 400˚F. It is also a mystery to me how but the oven chamber is drafty, which makes it very hard to steam breads in the oven.
Emile Henry Baguette Baker to the Rescue
You may recall the a while a go I reviewed the Emile Henry Bread Cloche. For the reasons noted in that post I love that cloche and with it, my breads come out beautiful every time. That's why I was so excited to receive a demo of their beautiful baguette baking pan. Their beautiful baguette baking pan is "crafted from Emile Henry's innovative refractory ceramic" which I must say is really quite nice. The baker and the cloche have a very nice feel to them and are actually lighter than they may look, yet they retain their heat very well. "The Emile Henry baguette pan assures delicious results and a beautiful presentation" which I do agree with.
After using the Emile Henry Baguette Baker several times, I have become used to how it behaves and know what I can expect to get from it given my skill set and limitations. I love the way the baguettes get baked thoroughly while at the same time having a nice crust on the outside and delicious flavor on the inside.
Emile Henry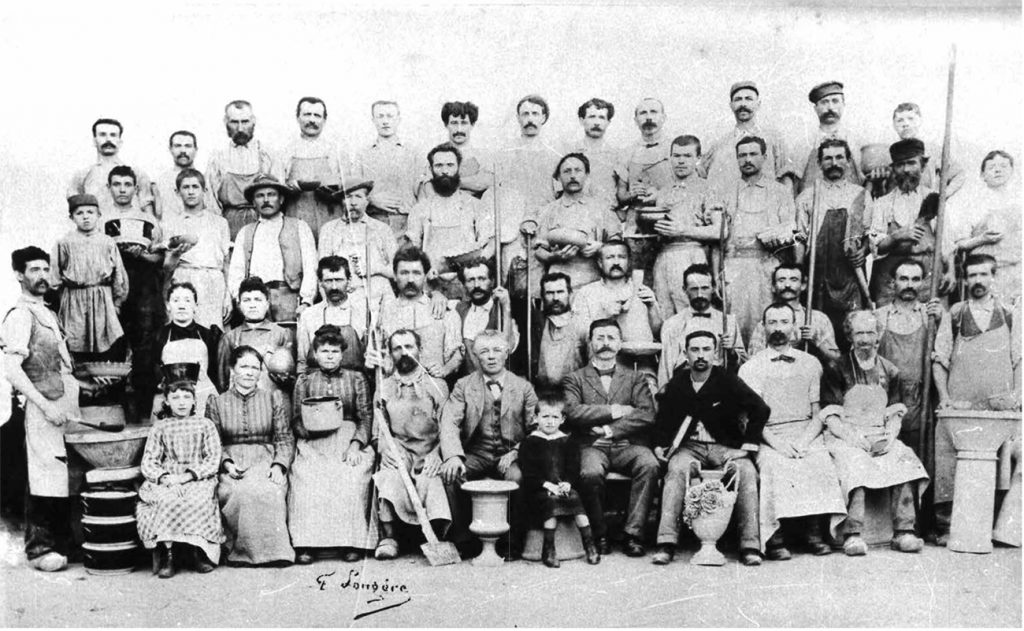 Started in the mid 1800's, the Emile Henry company has been producing quality earthenware for quite some time. Started in Burgundy, France by Jacques Henry, the Emile Henry brand is now present in over 50 countries. And still to this day, each piece of cookware is made by hand and if you look carefully at the bottom of your piece, you will see a stamp noting the artisan that made it for you!
Emile Henry doesn't just make bread baking products. They have a whole catalog of housewares for your enjoyment. From plates and cups to oil dispensers and tajines, it seems like they make it all, including the Baguette Bread Baker dish.
The Baguette Baker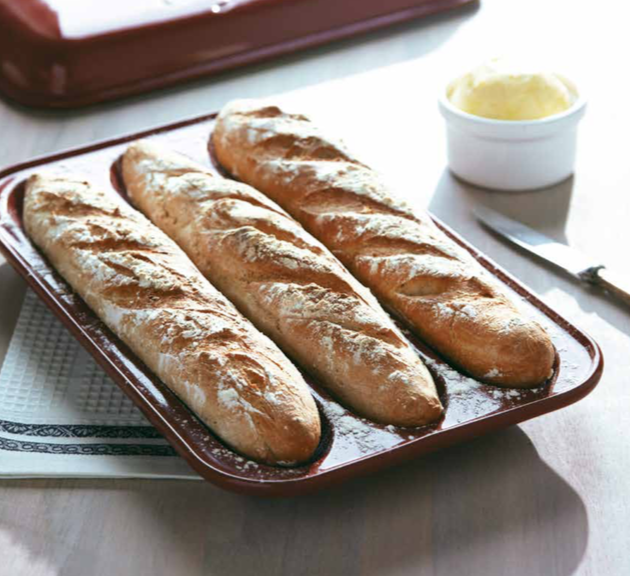 The Baguette Baker by Emile Henry is a covered clay tray with a lid that helps you bake good quality baguettes right in your home oven. Its tray has three wells so you can make up to 3 loaves at once. As I mentioned before, the baguette is a simple bread that is hard to get right, and the baguette baker is a great tool help you get it right.
Upon receiving the product, I didn't even read the directions the first time I used it. And much to my surprise, I messed up and ended up with a misshapen lot!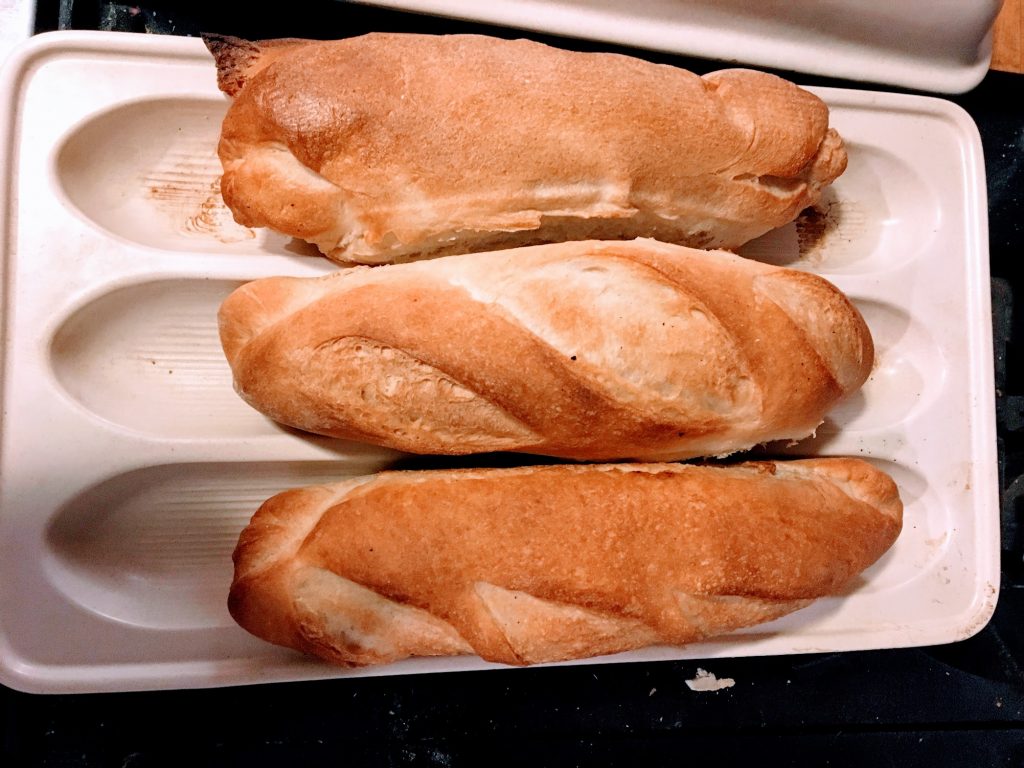 Disheartened but determined, I read the directions and suggestions, and when I used it I followed the directions to the T. Lo and behold, the breads came out just as advertised.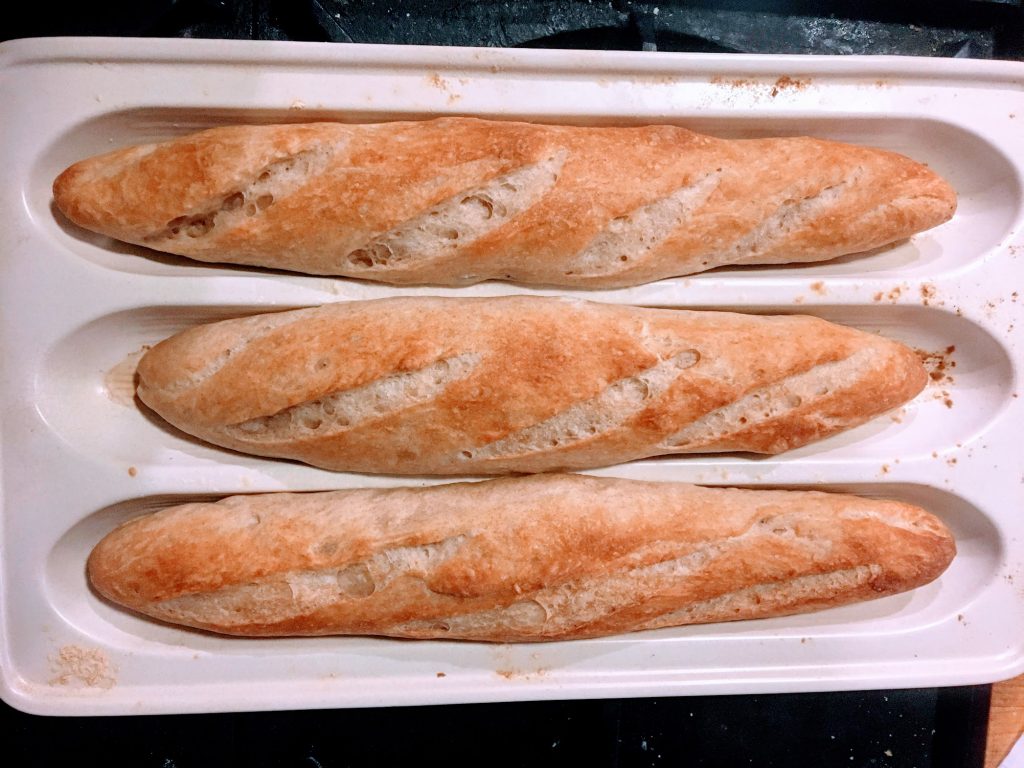 Bread Baker Shortfalls
My biggest issue with the product is that that to successfully make bread in the pans, the breads end up being too small for my liking. They say that "you can bake up to 3 baguettes weighing up to 160g each" and in my opinion, they are quite small. I usually make my baguettes a little over 15 inches long and weighing about 320-360g, so these are less than half the size I'm used to. Another note is that the crust doesn't really ever get very crispy. Since the breads rise in the pan and go directly in to the oven, you don't really have the same effect on the crust as you do with the Emile Henry Bread Cloche or a cast iron pot where you're loading a room temperature bread dough in to screaming container. While they claim that "the Baguette Baker maintains a perfect humidity rate during cooking", I think that may depend on your oven and your mileage may vary so be prepared to add some extra steam to your oven if you want a crackly crust.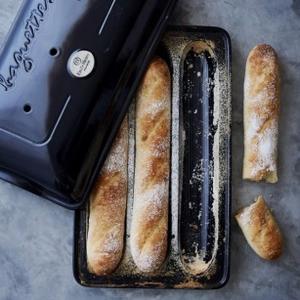 I have been using the baguette baker for about 3 months now and have made several batches of baguettes. While the bread loaves are quite small they are very satisfying. At a dinner party you can just slice the breads and put them on a nice cheese platter and nobody will now how big or small the breads were. However, the size of the baguette is my main issue with this device. Aside from that, I encourage you to snap one up on Amazon and give it a try! I think you'll like it and it may just be the thing you need to take your baguettes from good to great!