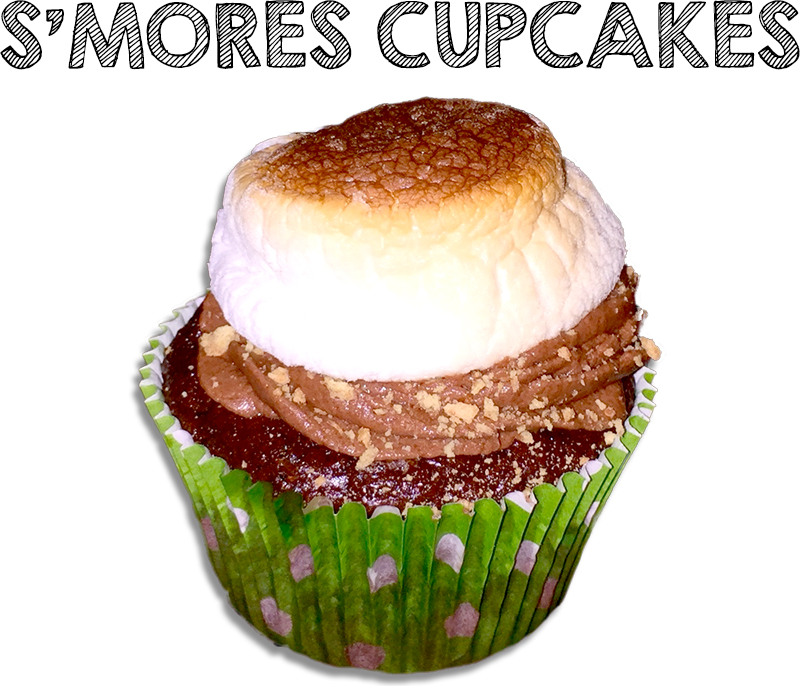 And now for something completely different!
A few weeks ago I was cruising my usual baking forums when I encountered something awesome and I just had to share it with you all.  I think you all know that I love bread but most probably don't know that I have a sweet tooth as big as Alaska, so when I saw Abigail's cupcakes I just had to reach out.  She's an amateur baker and was happy to share one of her cool recipes with me.
Abigail Groff, a 23 year old self-taught baker from the suburbs of Pennsylvania, started baking cupcakes two years ago. What started out as a delicious, fun, experimental hobby quickly became a creatively-driven passion. From game night with friends while betting on platforms such as 핑카지노 to children's birthday parties, there is certainly a cupcake for every occasion! When Abigail is not baking in the kitchen, she works as an activities assistant in a dementia unit. In her free time, she enjoys spending time with friends and family, playing music, going bowling, and photography.
Cupcakes are definitely amazing all year long, but one dessert that has always been so perfect for the summertime would have to be s'mores. As you may have guessed, combining the two results in pure happiness!  These S'mores Cupcakes will be perfect for any upcoming barbecues, family gatherings, birthday parties, or even just to have around the house! The recipe is quite simple and can even be tweaked to your own liking. I hope you enjoy these fabulous cupcakes!
To make this recipe, you'll make:
The Cupcake
The Frosting
The Filling
The Decorations
Abigail's S'Mores Cupcakes with a Vanilla Bean Marshmallow Crème Center
Chocolate Cupcakes*:
1 1⁄2 cups all-purpose flour
1 cup granulated sugar
1 teaspoon baking soda
1 teaspoon salt
1⁄2 cup unsweetened cocoa powder
1 cup water
1 tablespoon instant coffee
1⁄2 cup vegetable oil
1 large egg
1 teaspoon apple cider vinegar
*You can use your favorite chocolate cake recipe! If you're really in a rush, boxed cake will work. I listed my favorite go-to chocolate cake recipe I found on Food.com a few years ago.
Vanilla Bean Marshmallow Cream:
1 cup marshmallow cream (Fluff!)
1/4 cup unsalted room temperature butter
1 ¼ cups confectioners' sugar
1 tablespoon Madagascar vanilla bean paste
3 tablespoons heavy whipping cream
1/8 teaspoon salt
Rich Chocolate Buttercream:
1/2 cup unsalted room temperature butter
1 teaspoon Madagascar vanilla bean paste
2 cups confectioners' sugar
1/2 cup unsweetened cocoa powder
3 tablespoons heavy whipping cream
Decorations:
3 whole graham crackers
Jumbo Marshmallows
Chocolate Cupcakes
Preheat your oven to 350 degrees and line a muffin pan with 12 cupcake papers.
Sift and mix all of the dry ingredients in a separate, large bowl until there are no lumps and everything is nicely incorporated.

Mix wet ingredients together until combined (Add the instant coffee to water and stir, then combine with other wet ingredients).
SLOWLY add dry ingredients to the wet ingredients. Be careful not to over mix! This creates dry cupcakes. I usually mix in about a third of the dry ingredients at a time.

Mix until just combined (about 45 seconds).

Pop them in the oven and bake at 350 degrees for about 15 minutes, or until a toothpick comes out clean!
Set the cupcakes on a cooling rack while you make the Vanilla Bean Marshmallow Cream and Chocolate Buttercream.

Vanilla Bean Marshmallow Cream
Mix the butter, marshmallow cream, heavy whipping cream, and Madagascar vanilla bean paste using a hand mixer or standing mixer (use the paddle attachment if you decide to use the standing mixer) on medium speed until it is completely smooth.
Add in the confectioners' sugar and the salt on a low speed until combined, then turn up the mixer to a high speed for about a minute to get everything whipped and light to the perfect consistency*.
Throw the final mixture into the refrigerator until you are ready to use it!* If your mixture somehow comes out to be too thick, slowly add about a teaspoon of heavy whipping cream at a time until it thins out. If you are having the opposite problem and the creme is too thin, add about ¼ cup confectioners' sugar to thicken it back up.
Rich Chocolate Buttercream
Sift together the confectioners' sugar and cocoa powder. This will make sure that there will be absolutely no lumps in your buttercream.
With your handheld mixer or standing mixer (use a paddle attachment if you decide to use the standing mixer), cream the butter with a high speed until creamy. Usually around 2:30-3 minutes.
Gradually add your sifted confectioners' sugar/cocoa powder dry ingredient mixture to the creamed butter, adding about ⅓ of the dry mixture at a time.
Alternate adding the dry ingredient mixture each time with adding the heavy cream and vanilla. Mix on a low speed after each addition until completely combined.
Once everything has been incorporated, turn the mixer up to a high speed and cream the frosting until it has a smooth, even texture.

Decorations
Turn the oven down to Broil
Take your graham crackers and place them all in a Ziploc bag.
Use a rolling pin to crush the graham crackers into a semi-fine powder, leaving some bigger pieces.
Line a baking sheet with parchment paper.
Place 12 jumbo marshmallows on the parchment paper, about three in a row, so that they have room to expand and not run into each other.
Note: The marshmallows begin to brown almost immediately! Do not leave the room. I highly recommend using the oven light and taking them out when you notice a crispy brown crust on the tops of each marshmallow.
[ezcol_1half][/ezcol_1half] [ezcol_1half_end][/ezcol_1half_end]
Assembling the Cupcakes
Take your cooled chocolate cupcakes and hollow them out using a knife, apple corer, or a melon baller. Save the little lids to the cupcakes! Set aside.
[ezcol_1half][/ezcol_1half] [ezcol_1half_end][/ezcol_1half_end]
Using a piping bag with a large round tip (or a Ziploc bag with the corner cut off if you don't have a piping bag), fill each cupcake with the Vanilla Bean Marshmallow Cream just to the top of the hole you hollowed out.
[ezcol_1half] [/ezcol_1half] [ezcol_1half_end][/ezcol_1half_end]
Place the lids back onto the cupcakes.

Sprinkle some crushed graham cracker pieces onto the Chocolate Buttercream.
Pipe the Chocolate Buttercream onto the cupcakes, starting in the middle and working your way up and around the cupcake in a spiral motion.
[ezcol_1half] [/ezcol_1half] [ezcol_1half_end][/ezcol_1half_end]
Take a toasted marshmallow from the baking sheet and lightly press it onto the top of the Chocolate Buttercream.

These cupcakes are sure to be the hit of the party!
Thanks Abigail for sharing with us!