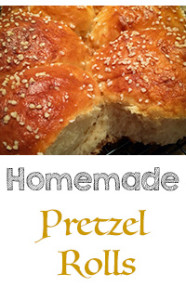 Last week was a busy week for our family.  Since it was Thanksgiving and my wife's sister had a baby we decided to spend the holiday with them in Boston.  So we packed up the van and made the trek.  We had a lovely time visiting and spending quality time with the baby and the other family members who were there, but certainly one of the highlights of the trip was Thanksgiving day and the feast that accompanied it.  Especially kaiser rolls and these pretzel rolls.
As with any meal on a day deserving of capital letters, Thanksgiving is a treat. Probably my favorite holiday since the food is outstanding, the weather is usually at least pleasant (this year it was outstanding for us!), the Christmas stress is not yet palpable, and everyone is generally in good spirits for the special day. In order to not be a completely lazy husband and party guest, I like to bring or make some kind of doughy goodie for these kinds of meals, so since my sister in law and I both love pretzels, I decided to make some pretzel rolls.
Being at an 'away kitchen' is usually a test in and of itself and to make something without being too much in the way during a busy day is an added hurdle. So with a little planning and cautious timing I was able to pull these off in no time by making sure I knew where things were ahead of time and getting things out and ready while people were away from the kitchen (a rare timing feat on Thanksgiving!).
Make something special for your friends
These rolls turned out to be delicious and were gone in no time. I certainly didn't make enough and next time I will be making 2 or 3 times as many since people will eat these, even if they're trying to watch the holiday weight gain. They are fluffy on the inside, nice and pretty on the outside, and the balance between sweet roll and salted pretzel make them an interesting companion to breakfast, lunch, or afternoon snack.
[ezcol_1half]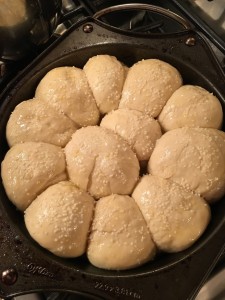 [/ezcol_1half]
[ezcol_1half_end]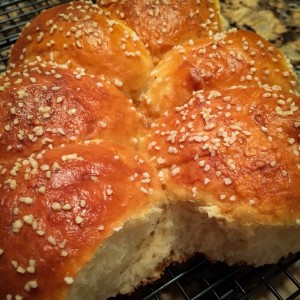 [/ezcol_1half_end]
Since I was away and didn't have my food grade lye or scale with me, I eyeballed most of the recipe and it turned out just fine. Don't be afraid to experiment, you'll be amazed at what you can pull off in a pinch!
For the dough, you'll need the following:
500g flour
300g milk
1 tbs sugar
1 tbs salt
1 packet yeast
For the 'pretzeling', you'll need:
1 egg
2 tbs baking soda
1-2 cups water
Pretzel salt
The basic steps are as follows:
To make the dough, combine milk, yeast, and sugar and let them get to know one another for a few minutes. Then in a separate medium sized bowl, pour in the flour and then add the wet mixture. Let it sit for about 10 minutes then add the salt and give it a good kneading for 5-10 minutes.
Cover and let sit at room temperature for about an hour.
Take the dough to a floured surface and pat the dough out in to a disc, roughly an inch thick.
Using a pizza cutter or a knife, cut out in to 16 wedges (I only had enough for 12) and roll in to balls.
In either a rectangular or circular pan, spray it down and place your dough balls near one another.
Preheat oven to 375.
Boil a cup or two of water and add 2 tbs of baking soda.
Brush baking soda mixture on the rolls, let dry for 10-20 seconds and do a second brushing.
Beat an egg and brush the rolls with the egg mixture, repeat if desired.
Sprinkle pretzel salt.
Bake for 20-30 minutes or until ready & consume when cooled!
At home I normally use lye for my pretzel needs. I feel that it creates a superior crust makes the final product that much more authentic. Baking soda does a nice job but I don't think it's as good as lye. You can get good food grade lye on Amazon. I purchased 2 pounds and think that it'll last me 5 years! Since lye is caustic, I am probably more cautious that I need to be but I always use long rubber gloves and make sure nobody is around me when I mix or move the batch of lye that I made.