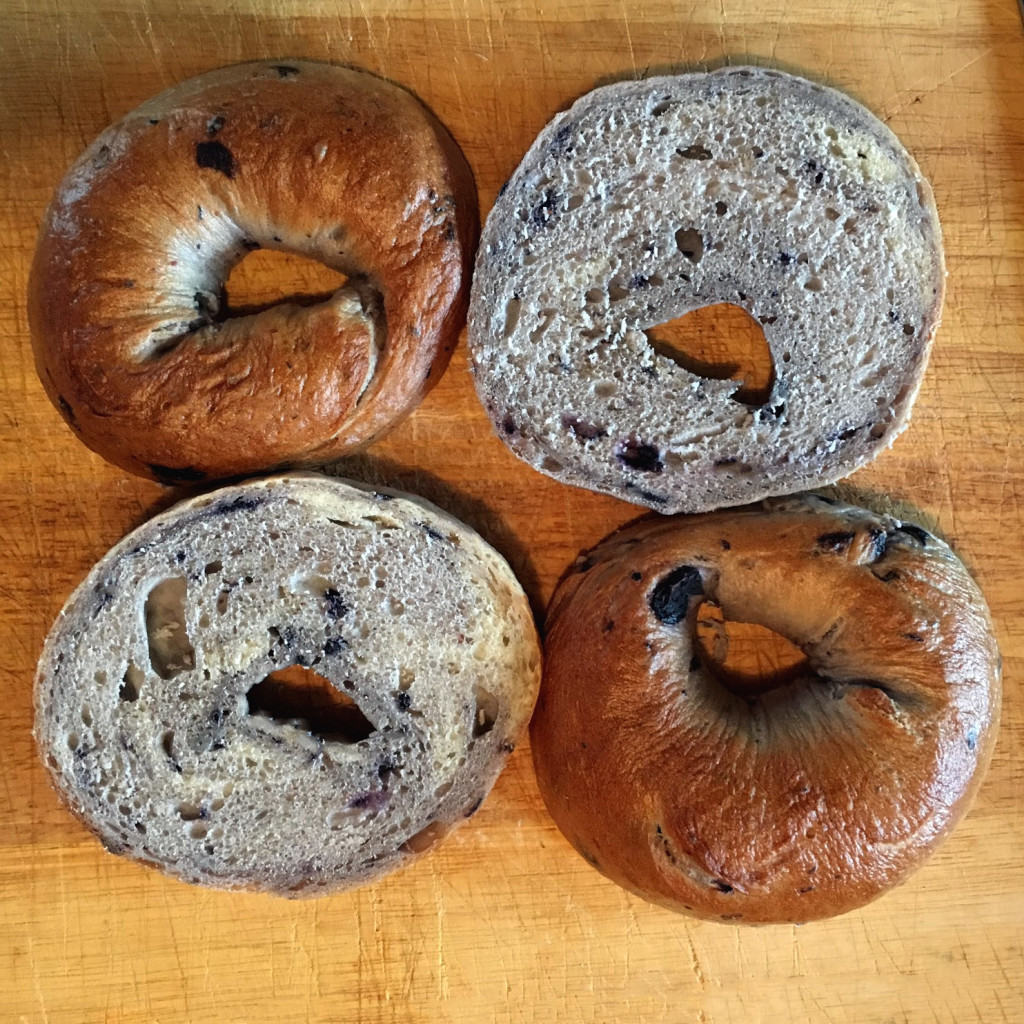 Fresh bagels with a little schmear on it are hard to beat. Hard to beat unless you add blueberries to the mix, that is. That's exactly what these are, delicious New York Style Blueberry Bagels.
So what makes a bagel NY Style? I looked this up and found that there are predominantly two types of bagels in North America. The Montreal Style and the New York style. The difference between the two types of bagels are subtle but notable. While the Montreal bagel is made with malt, sugar, no salt, and is boiled in honey-sweetened water before being baked in a wood-fired oven, the New York Style bagel contains salt in addition to the malt and sugar, is boiled in plain water and is baked in a standard oven.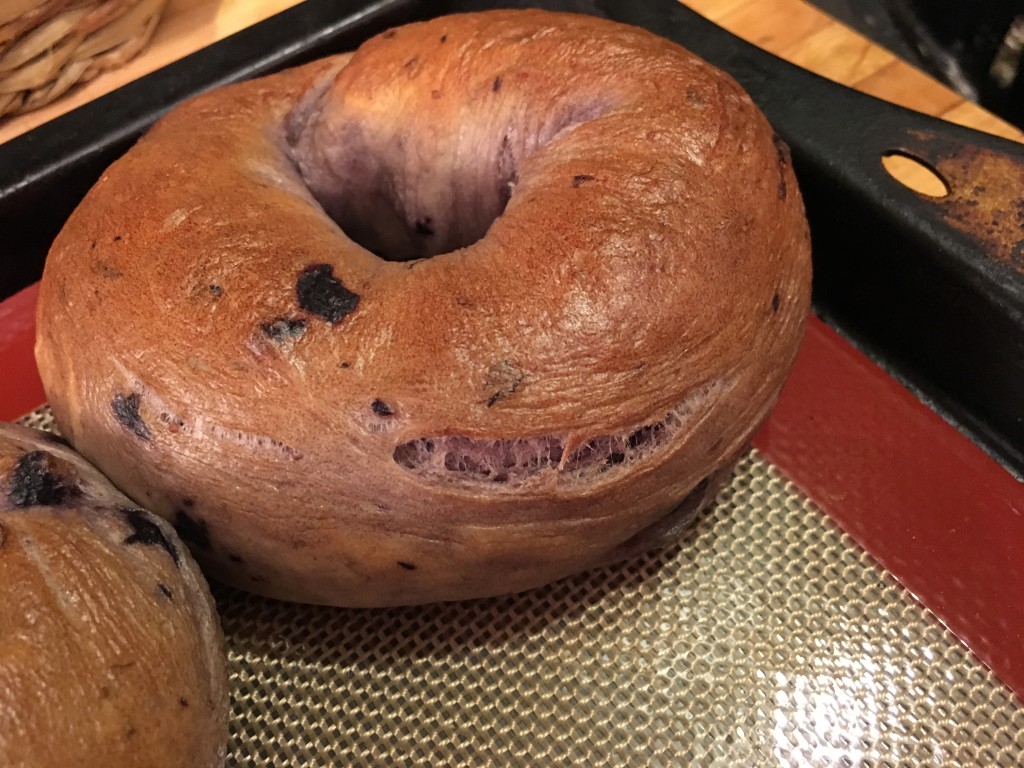 I'm a NY Bagel kind of guy but if I had a wood fired oven I'd be happy to give the Montreal Style bagels a try. You know, for science.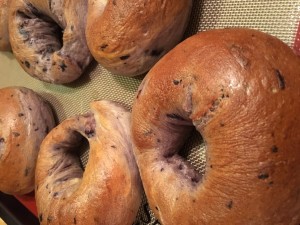 So how do you pull these off?  Truth is, it's pretty easy and pretty fun to do.  I followed another recipe online but found that my dough was way too wet, so I ended up altering the recipe to end up with this fine end result.  Bagel dough is relatively low hydration which makes it easy to handle.  Since it's a yeasted dough it is ready in a predictable time schedule and is all but guaranteed to give you a good result.  Boiling the bagel is also a fun experience, especially when using chopsticks!
Before you begin, the list below contains the helpful things I used to make the bagels.  Links to Amazon and help to support the site!
[table id=10 /]
Process
Warm the water to approximately 85˚F and bring the blueberries to room temperature.  If Blueberries were frozen (like mine), remove from freezer about an hour or so before baking.  I just added the frozen berries to the dough and boy was that a mistake.  I had to wait another 90 minutes before the dough came back up to  temp and was workable again!

See how pretty it is?! The purple bursts and it turns in to a beautiful dough.
In a stand mixer, combine the flour, salt, and yeast at low speed.  Slowly add the water and the malt syrup and mix briefly, about 30 seconds.
Coat the blueberries in about a 1/4 cup of flour and add to the mixer.
Mix at low speed until completely incorporated and a smooth ball forms, about 5 minutes.  The dough should be moist but not wet.  If it's too dry, add a little bit of water at a time until you're happy with it.  The blueberries add moisture to the mix so it's hard to say exactly how much water you'll need.

After a few minutes the dough becomes workable and familiar
Cover the dough and let it rest, about 90 minutes.
On a floured surface, divide the dough.  I wasn't sure how much a bagel weighed so I went for about 150g.  Maybe 125g would be better but these made some pretty hefty bagels, which I like.
Pre-shape into logs and then roll them out to about 10 inches long

If you're having a hard time rolling them out, rest the dough for a few minutes so they become easier to stretch.
With the rolled out dough, wrap it around your hand and roll the seams on the board a little bit so that they seal nicely

Lightly cover the bagels and let the rest again, about 30 minutes.  While resting, preheat oven to 425˚F.
Bring a pot of water to a boil and gently put the bagels in the boiling water.  Let the boil for 60 seconds and then flip over for another 60 seconds (2 minutes per bagel total).  Transfer bagels to a lined baking sheet.  I used a silpat mat and it was perfect.

Once all of the bagels have boiled, put your baking pan in the oven.
Rotate every 5 minutes until done, about 15-20 minutes.  Make sure not to burn you bagels!  I go by color and smell, not necessarily time.
Let cool and voila! Homemade blueberry bagels at your convenience!