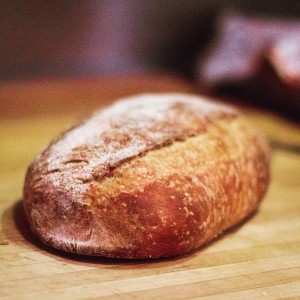 Everyone bakes for a reason.  For some people it's to literally put bread on the table.  For some it's a fun way to spend a few hours.  For me, however, it's about expressing my creativity in a form that is hopefully enjoyable and sometimes unexpected.  Take this week's bake, for example.  I started out with just a few spare hours and ended up with something I had never baked or seen before.
Most of the time, before baking, I like to research a loaf and learn what others have done to achieve a successful bake.  Be it extended fermentation in the refrigerator or spritzing the loaf with water before baking, there's always something to be learned from others.  That's why I surprised even myself when I decided to just "wing it" with this bake.
Since my starter hadn't been refreshed yet, I decided to make a nice loaf with a tad of black pepper for a little extra 'oomph'.  After baking and tasting it, I thought "wow, that's not too bad! I bet others have tried this too." After going online and looking it up, I did see a few variations (which look amazing, and even better!) of a sourdough loaf with thyme and black pepper.  I might have to try those next time but for now, this is how this loaf came together.
[ezcol_1third]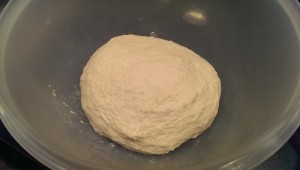 [/ezcol_1third] [ezcol_1third]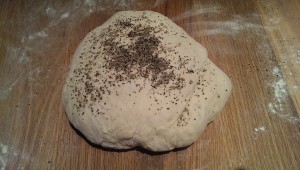 [/ezcol_1third] [ezcol_1third_end]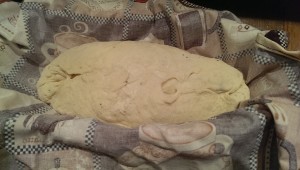 [/ezcol_1third_end]
This is a loaf that can be put together and ready to serve in less than 4 hours – I call this a 'relatively quick' bread and will file it under 'easy'.
Ingredients:
500g ap flour
300g water
50g apple juice
1 tbs black pepper
1.5 tsp sugar
1 tsp active dry yeast
t tsp salt
Procedure:
Combine the flour, water, juice, sugar and the yeast and mix until incorporated.  Let sit for 5 minutes and mix in the salt & pepper.
Place the dough in a bowl and cover until the dough roughly doubles in size, about an hour-ish.
Remove the dough and place it on a lightly floured surface and pre-shape the dough.  Let it rest for 5 minutes to allow the dough to relax a bit.
Turn on your oven and pre-heat to 425˚F
Shape you dough and place it in your proofing basked and let the dough proof for another 45 minutes or so.
When your dough and the oven are ready, turn the dough on to a floured peel, score, and load the bread in the oven.
Turn the bread after about 20 minutes and let it finish baking, another 15-20 minutes.
Let cool and enjoy!