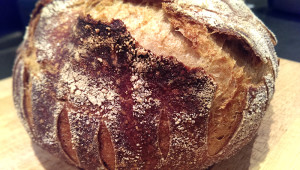 When it comes to making bread, one of the things I really enjoy is trying to make it LOOK good as much as I enjoy making it taste good.  This bread is packed with a little bit of rye flour, a little bit more whole wheat flour, and the rest is AP or bread flour.  Paired with fairly low hydration, this combination of ingredients make a nice looking, easy to shape delicious loaf.
Jeffrey Hamelman is somewhat of a superstar these days.  Not only is he the man behind the bakery at King Arthur's home bakery his book is also well reviewed and award winning.  The recipes in this book are available in three versions, one for commercial quantities in metric, another commercial size batch in imperial, and one for the home baker.  As a home baker I just take the commercial quantity and divide by 100 to get my weights in grams.
This recipe starts with building a stiff levain with rye and whole wheat, which is then added to your final dough.  This bread is a little less hydrated than most and I deviated a bit from the recipe by adding about 20g more water than what the book calls for.  My loaves ended up being crusty with a nice soft interior and good crumb.
[ezcol_1half]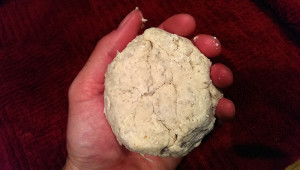 [/ezcol_1half] [ezcol_1half_end]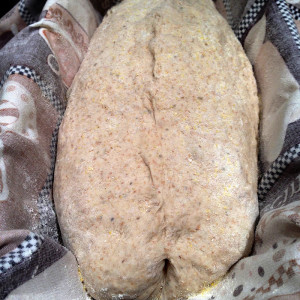 [/ezcol_1half_end]
This recipe is based on Jeffrey Hamelman's "Bread – A Baker's Book of Techniques and Recipes"
Levain:
145g AP flour
10g rye flour
90g water
30g mature starter
Final Build:
605g AP flour
200g whole wheat
40g rye flour
580g water
18g salt
250g levain
Mix the levain and let it mature for 8-12 hours.
When the levain is ready, mix the flours and add most of the water, reserving some for later.  Mix and let autolyse for 15 minutes.
Break up the levain and add it to the mixture, mix and knead until well incorporated. Add the remainder of the water.
Add salt and knead until well incorporated.
Add a little more water if desired and knead until fully incorporated.
Transfer the dough to a bowl and cover.  After 30 minutes stretch and fold the dough.  Repeat this two more times at 30 minute intervals.
After an hour and a half of rest and stretching and folding, let the dough proof for another hour and a half to 3 hours.
Divide the dough and pre-shape, then shape as desired.
Proof for an hour and a half at room temperature or up to 12 hours in the fridge.
Add your baking stone to the oven and pre-heat the oven to 450˚F
When the oven is ready, bake under steam for 15 minutes.  Rotate after 15 minutes and let bake another 20-30 minutes until done.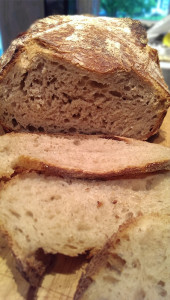 submitted to YeastSpotting